Dronninglund Gymnasium is a high school in the northern part of Denmark. On an average school day, 550 students and over 60 staff members fill the halls of the modernly designed building.
The high school has followed Airtame journey since the early days and after some testing, they have recently chosen to roll out Airtames to all 40 classrooms.
The school prides itself on the quality of education they offer, including their dedication to providing the best in modern technology for their teachers and students.
By going wireless, teachers and students are free to get up from their desks and engage interactively during lessons. They no longer waste time connecting their laptops to the projector through a wire.
About Dronninglund Gymnasium
550 students
60 staff members
40 classrooms
Find out how Dronninglund Gymnasium uses Airtame to improve the educational experience.
From an IT administrator's point of view, stability and easy administration are key factors in choosing a wireless HDMI solution for the school.
We had been looking for a wireless way to connect to our classroom projectors for a while and had tested a range of other solutions alongside Airtame. Recently, we decided to test Airtame out in 7 classrooms and both students and teachers reacted well to it. Some students even asked, why isn't this in every classroom already?

Frank Olsen, IT Manager at Dronninglund Gymnasium
The high school in Dronninglund has installed the Airtames in their classroom projectors. The Airtame is hidden together with the rest of the power cables in the cable tray of the projector mount.
Airtame is cabled to the network via ethernet to ensure maximum stability and the lowest possible delay between the computer and the projector screen.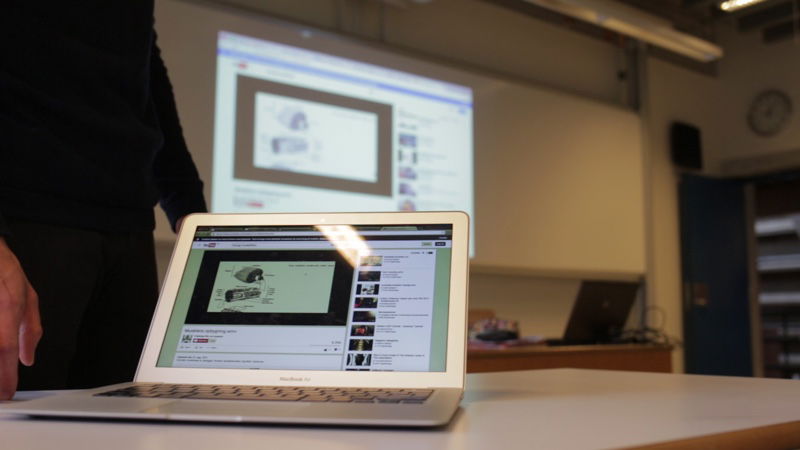 To manage the device, the IT administrators access the Airtame's device management panel through the use of a web browser from the comfort of their office.
Priority on stability
At Airtame, our number one priority is streaming stability. As we talked about in a previous post, we put our software and firmware through various stages of testing.
By using early release testing in real life environments (as opposed to keeping the testing in-house), we manage to catch more bugs.
Airtame is a very stable product. Both the hardware and software have performed stably in all of our tests. Our experiences with other wireless solutions have meant that we sat down and tried to stress out the Airtame in order to see if it would hold up in our environment. I haven't yet seen an Airtame that broke down which makes me comfortable with putting it out in all our classrooms.

Jacob Tranholm, IT Administrator at Dronninglund Gymnasium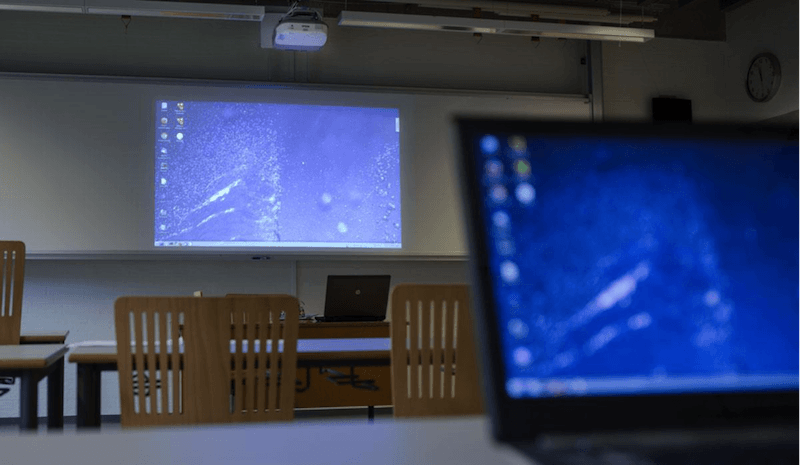 User-friendly connection
There are two ways to connect to an Airtame from your computer or mobile device:
Use WiFi discovery to pull up a list of available Airtames on your network
Connect by typing in the Airtame's unique IP address.
The second option is best practice in an educational environment like Dronninglund Gymnasium with multiple Airtames being shared by over 600 users. The IP connect function makes sure that no one streams to the wrong screen.
Dronninglund Gymnasium not only disables WiFi discovery on their school network, but also changes the IP addresses of each Airtame every night as an extra layer of security.
Read more about how to enable and disable the discovery feature in your organization here.
With fewer technical interruptions when connecting, teachers and students can focus on learning.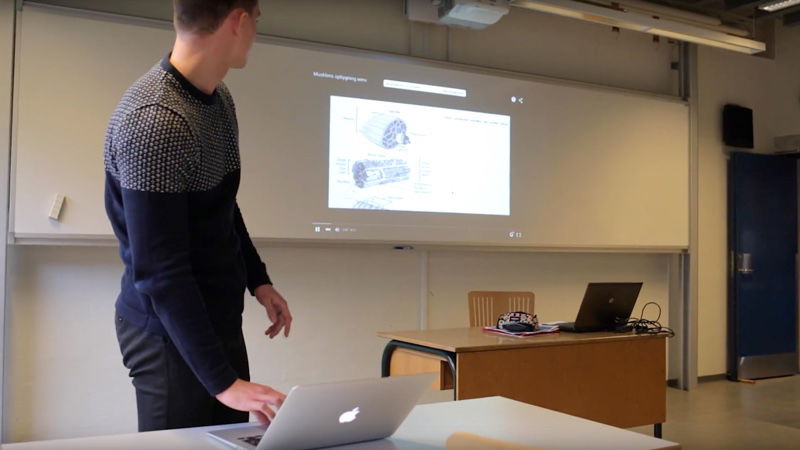 We haven't had problems with people connecting to the wrong screens. It is easy to connect and disconnect. Both our students and teachers have quickly learned how to get their content on the screens using the Airtame.

Frank Olsen, IT Manager at Dronninglund Gymnasium
Best practices for a wireless campus
Display a 'Get Started' guide
Use the Dashboard feature to create an easy 'Get Started' guide.
Dronninglund uses the custom background functionality to add a custom background with easy instructions for new users to get started quickly: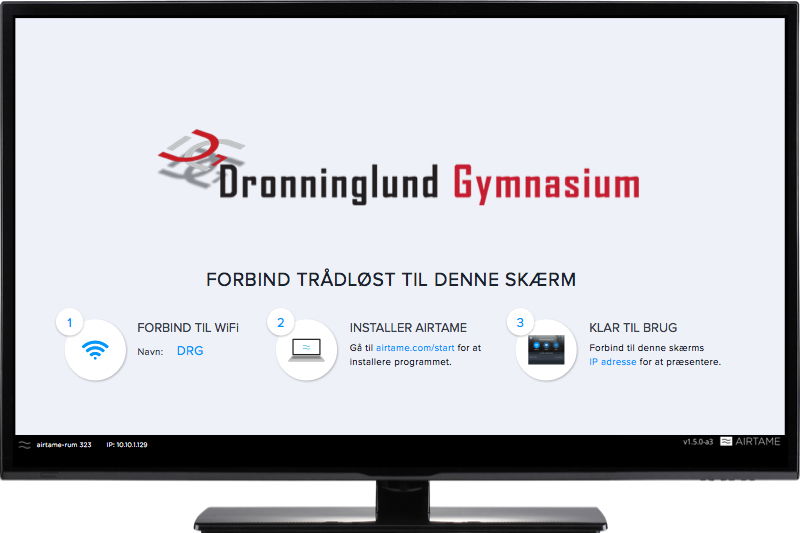 Connect with IP instead of auto discovery
Dronninglund uses the Connect with IP functionality when streaming to Airtame. This way, students are sure to connect to the right screen. To add an extra layer of security, the IT department configured the network to assign a new name/IP address to each Airtame every night.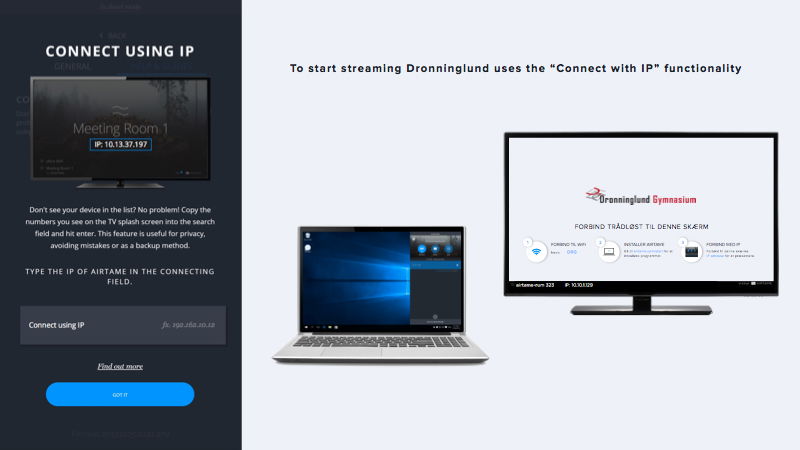 Dronninglund Gymnasium's Airtame setup
One VLAN for all devices
Airtame connected via ethernet using an ethernet adapter.
Airtame's WiFi AP turned off to reduce interference and simplify info presented to users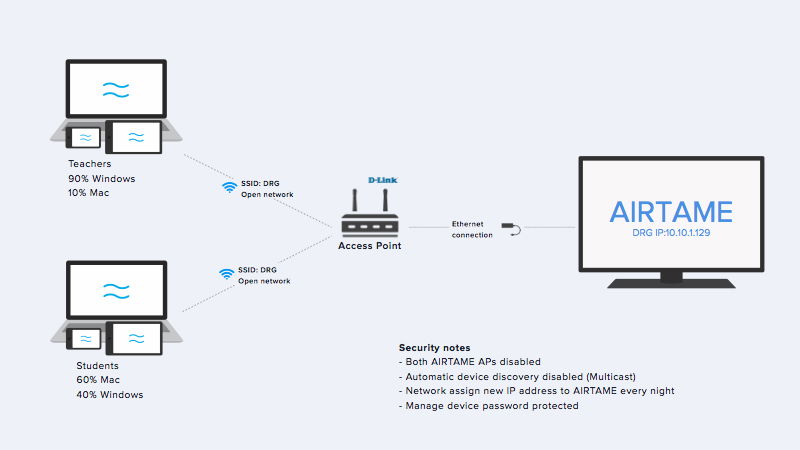 Insert image
This is the set up that works for Dronninglund Gymnasium, but it is certainly not the only way to integrate Airtame into a campus setting.
Are you an educator looking for a stable and user-friendly wireless HDMI solution? Write to sales@airtame.com and we'll help you go wireless!
Interested? Let's talk.