It's time for another product update! Our team has been hard at work to bring you the latest update to the Airtame application (that nifty software that runs on your computer).
This 1.8 application update continues to bring improvements to design and user experience. This update includes a new app design that we're excited to show you!
Highlights
The 1.8 application update includes a new app design, among a few other important bug fixes.
New app design
New Electron software framework
Known bug fixes on Windows
New app design
It's always been our aim to make the Airtame application simple to use. Our new design is a result of lots of customer feedback and research.
The average Airtame user is using our product during stressful situations: a big sales pitch to a client, a lecture in front of a full classroom, and so on. By removing any unnecessary steps to start a stream, we're making the Airtame app as dead easy to use as possible.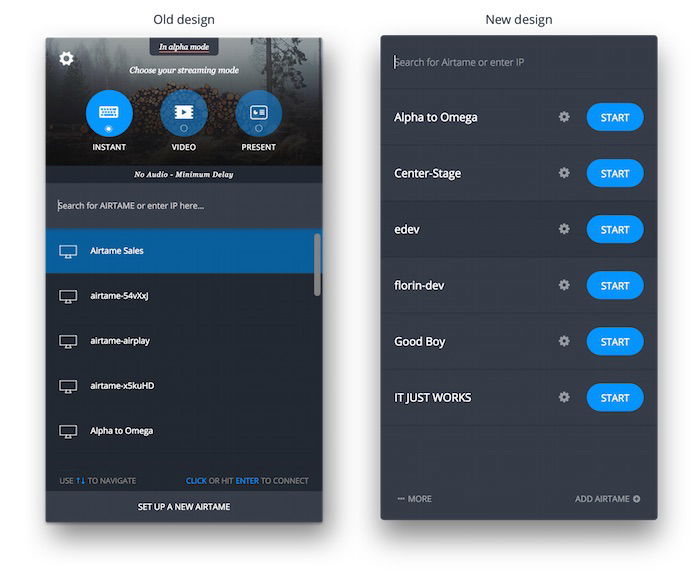 How to stream with the new Airtame app
Along with removing unnecessary steps, the new design includes handy guides that help the user through the streaming process.
To start a stream, simply click "Start" next to the Airtame device you want to stream to. The stream will start instantly. Once you're streaming, you'll be asked if you want to add audio to the stream. Clicking this button lets you play audio and will also optimize the stream to play videos. If you do not need audio, then do not click the button and your stream will continue as usual.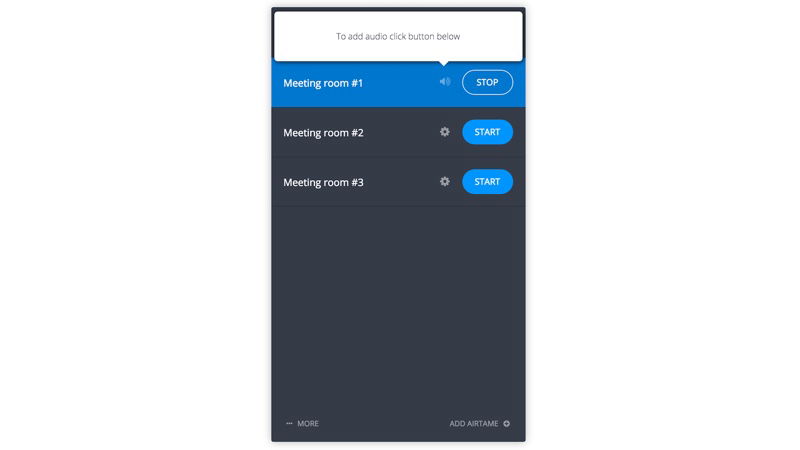 Before we released the update, we showed the new app to testers who are customers like you. The feedback we received was mostly along these lines …
Just updated to the latest 1.8 software. The new interface is much more clean. I like the new button for connecting and think choosing modes is much easier now. 

Jacob Olsen, IT Support, Semler Services
General Fixes
New Electron Framework
Our current Electron framework has been updated to the latest version 1.7, providing better stability, better support, and newer features that we're excited to tinker with.
Windows bugs fixed
There were some Windows users experiencing an issue with the Airtame application capturing the content of the computer screen, in order to stream to the TV. This problem affected those with a newer Intel Graphics driver and specific screen resolutions.
There were also some who couldn't see the application on the computer. Both of these bugs are fixed
Go update your app
You've heard what's new, now go update your software! When a software update is available, the Airtame application shows a green alert banner that asks you to restart the app.
IMPORTANT: If you experience any problems related to this update, please go to our website and download the latest version of our software and install it. This will replace your old version and fix any issues caused from the update. If you are still experiencing problems, please let us know.