by Róbert Jenčík, CFO and engineer, Manex
Manex is a family-owned company of over 50 engineers that has over 20 years of experience in creating automated technical solutions in the areas of product transportation and packaging, among others.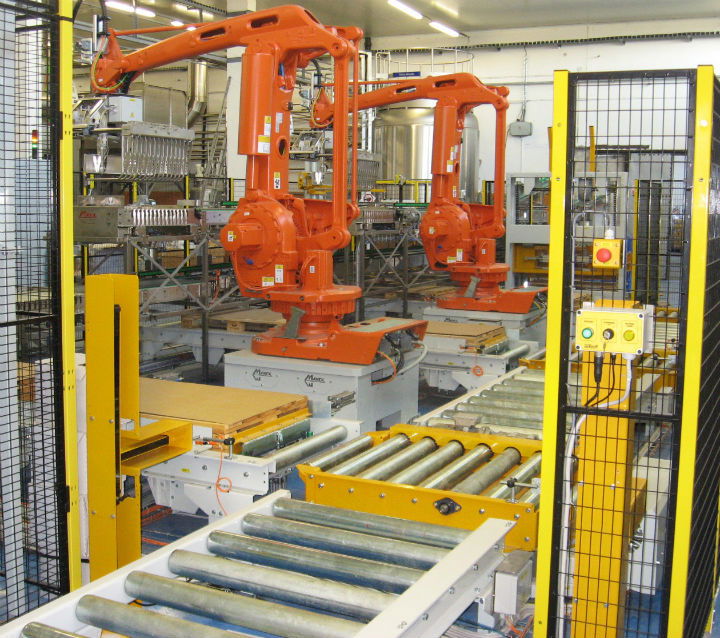 Some of our work includes designing different types of robots for our customers' automated lines. Our "Pick and Place" robot, for instance, can pick up an item and place it on a tray.
Just like the automated assembly lines we create, Manex works towards smooth operations in our offices, as well.
That's why we made the choice to go with Airtame when we were looking for a way to streamline our meetings.
How we use Airtame
We use Airtame for several reasons. To understand how Airtame has improved our work flow, let's go over each use case individually:
Client meetings
Every day, our employees use drawing and 3D modeling programs to show our customers the engineering solutions we create for their automated lines.
It's so important that we make a good first impression when we present our models and simulations in front of customers or management. To do this, we needed to make sure that meetings run smoothly from start to finish.
This is the main reason we started using Airtame. It's hard to impress a customer during a presentation if you're fumbling around with cables to connect your computer to a bigger screen.
Now, our business partners often make it a point to tell us that they have never seen this wireless HDMI system before. Not to mention, they get very enthusiastic that we implement modern ideas not only in our engineering solutions, but also in our work culture.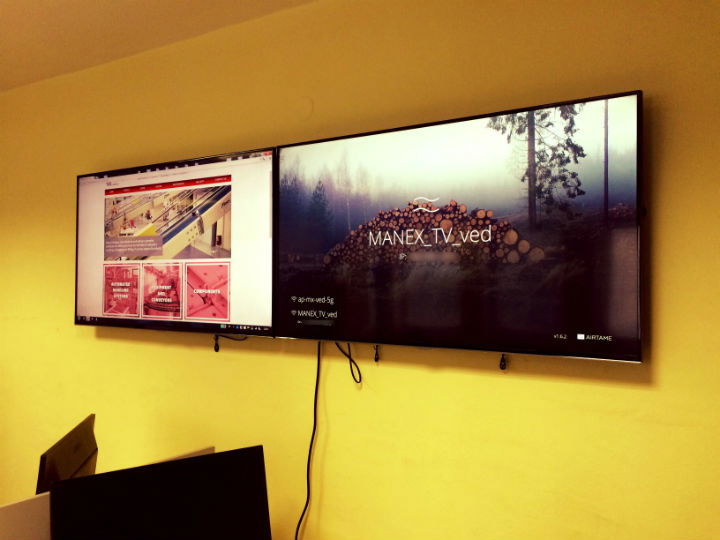 Collaborative employee meetings
In our conference room, it's commonplace that more than one person would need to present at the same meeting. With an HDMI cable, this meant having to unplug and replug every time the presentation switched to a new speaker.
This constant interruption made it very difficult to stay focused during our meetings. Long story short, our previous cabled solution made communication ineffective.
Now that we've used Airtame for a few months, this interruption is gone. It's been easier for us to smoothly and quickly switch from one person to another during a meeting.
Board meetings
I'm the CFO of Manex, which means I am responsible for the company's economic and financial aspects.
Tracking our performance, internal reporting and data-driven decisions are essential to our business' good health. A business that doesn't track its financial data runs the risk of blindly operating.
I personally use Airtame for board meetings where I present the company's economic results and I suggest new ways to develop the financial area.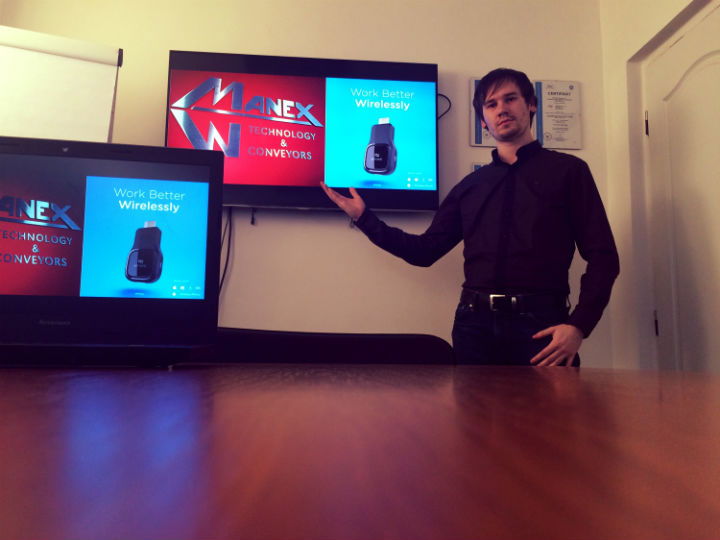 The technical setup
I would be lying if I didn't mention that the implementation of Airtame requires a certain amount of patience with the settings, depending on your company's needs. But the result once it's installed is definitely worth it!
At Manex, we've created the ideal hardware and system environment for using Airtame:
8 Airtames in daily use
A router with 2.4 GHz and 5GHz antenna
We have 8 Airtames in the Manex office. As for our network setup, we use a router with 2.4 GHz and a 5 GHz antenna.
Since Airtame relies on a quality wireless system, we had to increase the transfer speed of our old router. That's because when you use a router with 2.4GHz, it's possible that the router will not be able to transfer large amounts of data to Airtame. This will cause the quality of the resulting streams to suffer.
Now, before that scares you away, these are issues that the employees at Airtame can help you with. From our experience, if you happen to encounter a problem, their customer service team reacts very quickly.
As a family-owned company, we know the importance of tradition. As a company of engineers, however, we also know how important it is to stay up to date with technology. Take it from us, you don't want to get stuck with HDMI cables just for the sake of old habits.
Every company needs to find their own way into the future, because the future will not wait for anyone. For Manex, Airtame was a big help in this.
Interested? Let's talk.