Aesthetics and functionality
Rebel Work Space is a newly launched co-working space in Copenhagen. It's built with a strong focus on aesthetics and designed to foster collaboration across disciplines. Say goodbye to the offices of yesterday and hello to coworking spaces.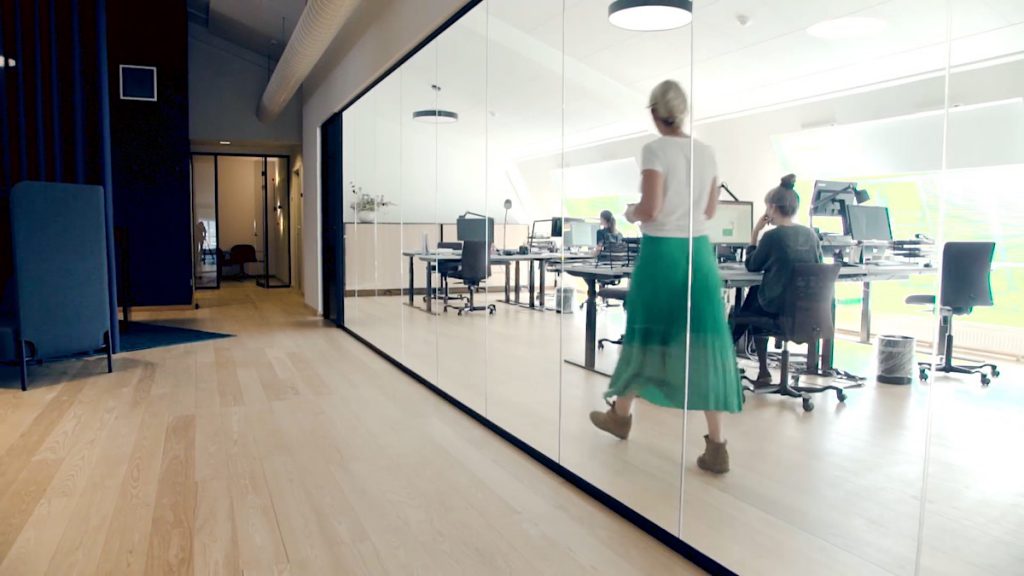 Everything a co-working space should be, Rebel is nailing. They take a multi-disciplinary approach with their client base - a mix of designers, coders, salespeople, recruiters and beyond. The idea is to provide the best possible place and framework for innovative companies to co-create and work together.
For a co-working space that houses a variety of professionals, the corresponding technology needs to be on point. Airtame provided a solution that matched Rebel's vision for their innovative workspace.
We became aware of Airtame in the hunt for the perfect product.

Finn Laustsen, Partner @ Rebel Work Space
Airtame is a wireless streaming solution that only requires an app to connect. It makes presenting simple, provides many digital signage solutions and a cloud-based platform for easy monitoring and managing. Things as simple as a customized meeting room greeting, to presenting of customized dashboards.
For a collaborative co-working space like Rebel, the sleek design, simplicity for all users and many possibilities fit their needs perfectly.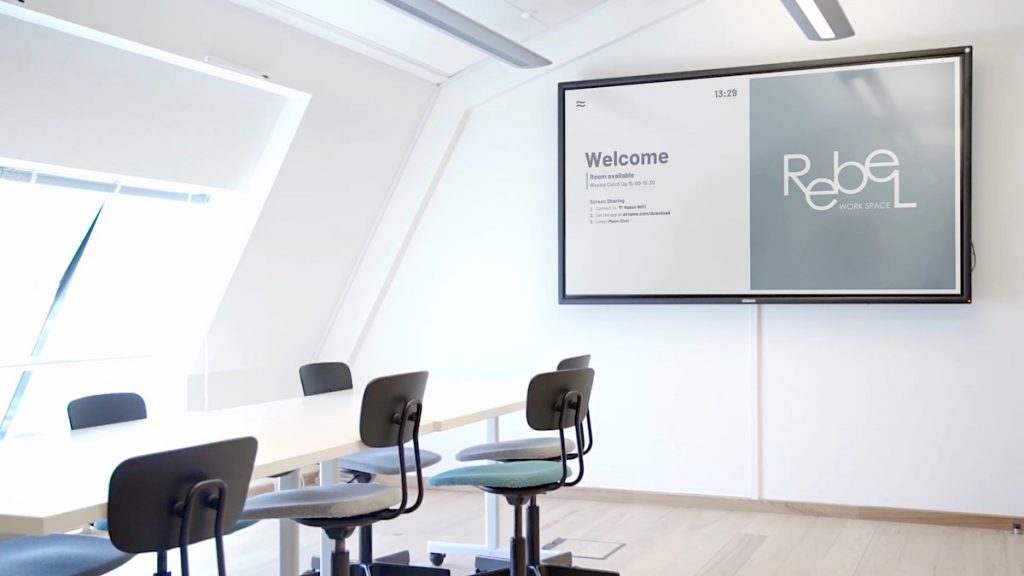 A space where real innovation happens
The three founders - Finn Lausten, Stine Kæhr Simonsen and Cecilia Petersson - are all experienced in what makes an effective, collaborative working space, and they all share an appreciation for good, efficient design.
When their shared values came together to form Rebel, they realized that great design needs to be matched with quality tech, and hence the hunt for the perfect fit started, a hunt that ended with them choosing Airtame.
They saw the need for a functional working area that would house all sorts of professionals and provide them with everything from huddle rooms, breakout spaces and a lot of open plan space - even a "Rebel Business Club" for solo or remote workers on the penthouse floor.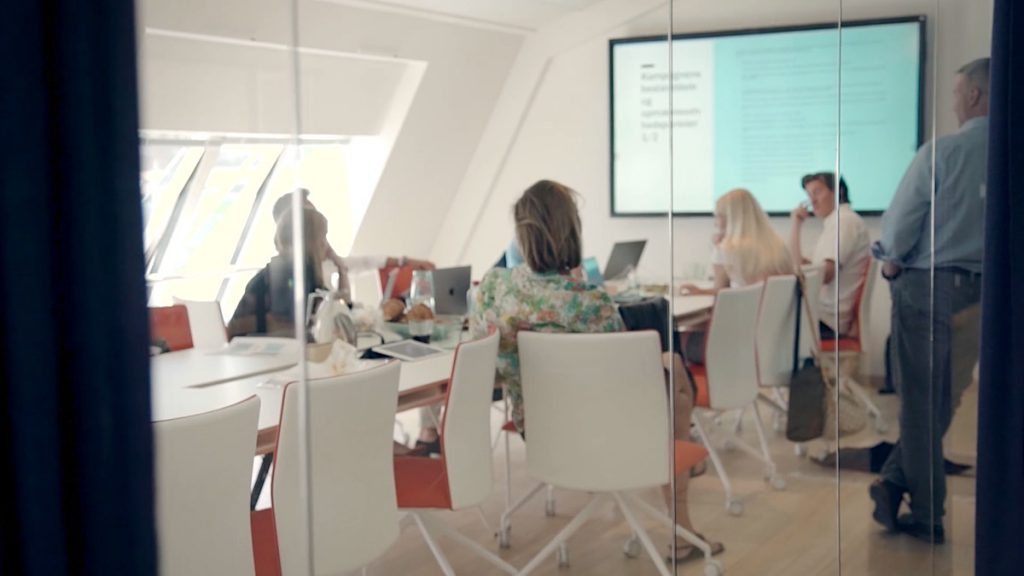 One device, many users
Rebel is all about creating a space that removes silos and fosters collaboration. That's where Airtame came into the picture. The mission to create working spaces that embrace great design, simple features and easy usage is shared by both Airtame and Rebel, and that's why setting up Airtame was a no-brainer for the Rebel team.
Airtame makes it easy for everyone in the co-working space to connect and stream, while also giving tenants the opportunity to present material when no one is streaming to the screen, for example displaying a welcome note to every new visitor.
It's easy […] and you feel secure that your meeting is going to be effective.

Cecilia Petersson, Partner @ Rebel Work Space
Rebel have installed Airtames across their confidential meeting rooms, in the canteen, and in more public huddle spaces. This end-to-end solution brings consistency to the design aspects of their TV screens (with each showcasing custom, branded backgrounds) and also in the mode of work.
It's easy to become acquainted with the Airtame instructions, and it means that all tenants can quickly get up and running with presenting and using the screens across the office. All they need to do is download the Airtame App and they are all set.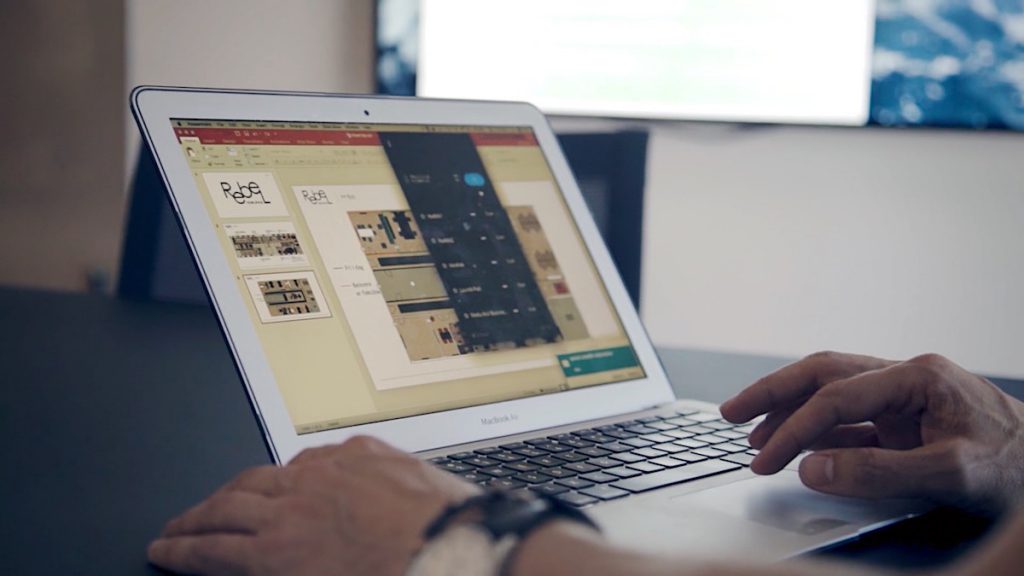 In Rebel's experience, finding a solution that works for an environment with multiple users was quite the challenge. Airtame is a product that supports many users, platforms and environments. In essence, it's a product with democratic access to presenting and functionalities – imperative to a place that has many users, and many different kinds of them too.
Airtame's uncluttered approach to meeting rooms was appealing to Rebel's design-oriented collaborative space. In fact, that's one of the points co-founder Cecilia Petersson mentions. She highlights that not only is the no-cable perspective worth a lot for Rebel, the efficiency of the solution is as well.
Because Airtame is a wireless, platform-agnostic tech solution, it removes the headache of cable clutter and not being able to connect; important concerns to a co-working space. Something Rebel doesn't have to worry about anymore.
Co-working rather than just working
Airtame is applicable to a fast-paced and fastly changing environment, such as a co-working space like that of Rebel Work Space. Using Airtame is as simple as flicking a light switch, so new tenants and guests alike are quickly up to speed with how to use it, thereby getting to focus on real productivity with less time wasted.
It's not just a presentation, it's actually a collaboration tool.

Cecilia Petersson, Partner @ Rebel Work Space
Rebel's beautiful workspaces, replete with touchscreen technology, huddle rooms and open spaces (and an inviting receptionist – a dog named Lauritz) are now equipped to support all the different kinds of professionals working there, and their many bright ideas.
Installing the devices at Rebel was a breeze. Airtame offered customer support and success throughout the process, and Rebel being in the same city as Airtame HQ made it easy for us to drop in at the office to ensure everything is going well and, if not, roll up our sleeves to help fix any issues.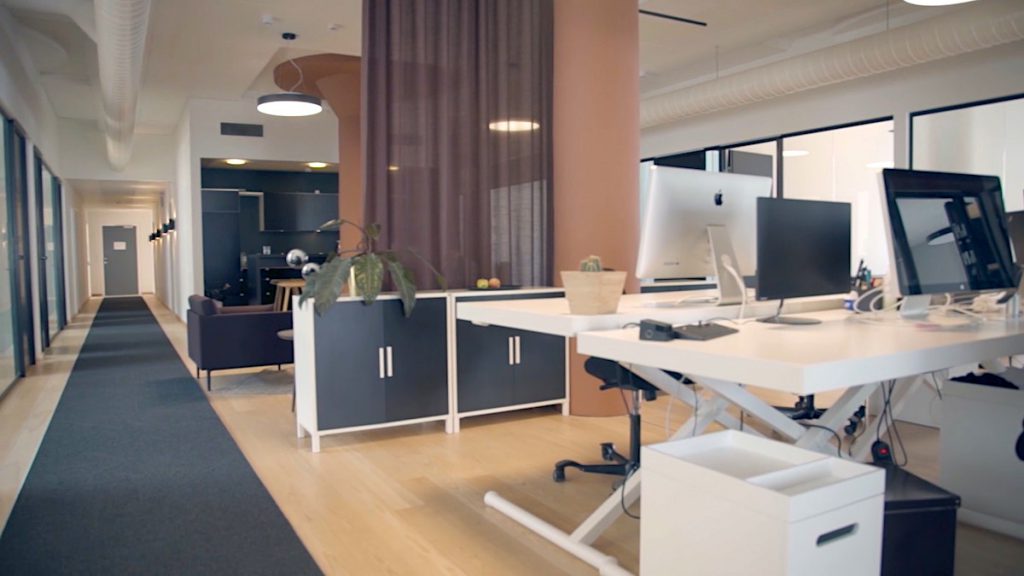 Rebel Work Space is a place for networking and innovating. But more importantly, it's a place for co-working and collaborating. With these pioneering ideas on how to work and work together, Rebel undoubtedly leads the way for other innovators in the field, and Airtame will continue to be a trusted partner on their journey.
Want to see more use cases like Rebel Work Space? Check out New York's Bond Collective, a space that is built on similar principles, which found an equally perfect match in Airtame.