Focusing on the numbers
Not long ago, our friends at Summ, a full-service accounting and advisory firm, were frustrated because they couldn't easily share spreadsheets and PDFs with their clients during meetings.
Though Summ helps clients in many fields, such as financial advising, bookkeeping, salary, and IT-economical software, one thing about their process in helping clients is the same - their work is all about sharing. They make it a priority to develop close and personal relationships with clients to help them see a clearer picture of their company.
With us, you are not just another customer in line, but will get just the focus that you expect. You will have a permanent contact person with detailed knowledge of your business, who is always there for you and your financial questions.

Deniz Patilovski, Partner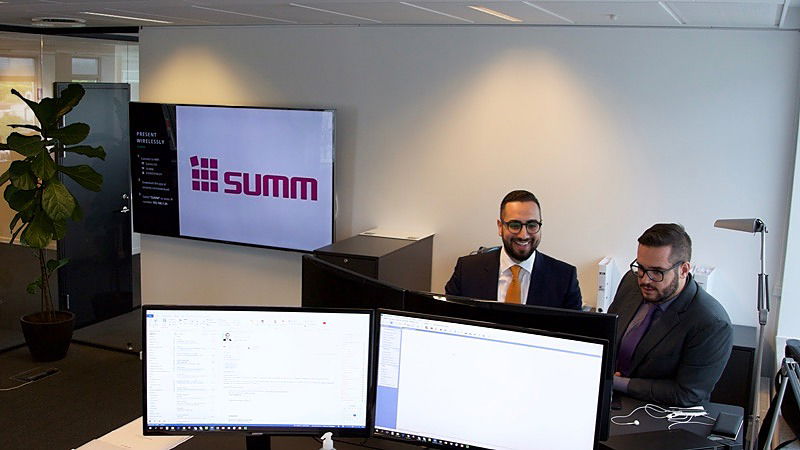 The Best Presentation Available
Airtame entered the picture to create an experience for Summ's clients that made sharing information and viewing presentations easy. When clients arrive with a laptop in hand, Summ accountants no longer have to provide multiple printouts or sit in close quarters to share a computer screen.
Now, clients are shown their financial information and professional insights on an easy-to-read large screen monitor that is mirroring their accountant's laptop using Airtame. In a scenario where a client would like to share their own laptop to compare information, Airtame connects to many devices so that clients can then present and discuss financial planning with the same level of ease.
Making the Most of Client Meetings
Viewing excel spreadsheets and PDFs is more effective on a larger screen that everyone can read, making it easier to follow along and visualize financial overviews. Connecting to a variety of devices is as simple as connecting to Airtame - no additional plugs or cords are required to get started.
It's very nice that everything is wireless and we can just switch to the customer's computer if he wants to show us something without any trouble at all. So that's really cool.

Deniz Patilovski, Partner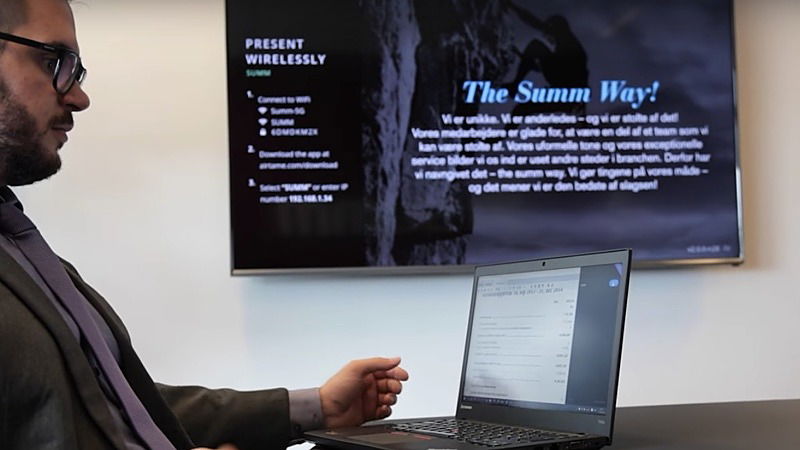 We have more in common with Summ than a passion for wireless HDMI. Both of our companies' core objectives orbit customer happiness and keeping sky-high standards. As they continue to nurture their approach to client satisfaction, Airtame continues to improve on the product software and firmware with every new update, based on direct communication with our customer base, just like Summ.
Ready for a wireless future? It starts with Airtame. Buy your first Airtame with a 30-day risk free trial today.