You've updated to our latest 2.0 release, right? If you haven't, do it now! It has a new look and feel, and, most importantly, improved functionality. See for yourself in the post below.
For those of you who already updated to 2.0, the first thing you noticed is probably that your default background has a spiffy new design. But did you know that this background isn't just a static image?
It's actually an internet browser that we built to give you some nice options for displaying your personalized content, even when you're not streaming to the screen.
We want to tell you a bit more about this browser, the changes we've made, and how you can make the most of it.
New display modes
Airtame is used in a lot of different ways, across industries and countries.
You might have an office with visitors coming in and out all the time. Or maybe you need to share what's happening next week with your class. Or you could be a marketing agency that wants to look at their campaign's KPIs all day long.
That's why we've given you different options.
To start with, we designed three modes for you to choose between: Guide, Basic Info, and Full screen mode. These are layouts with different amounts of Airtame-related information.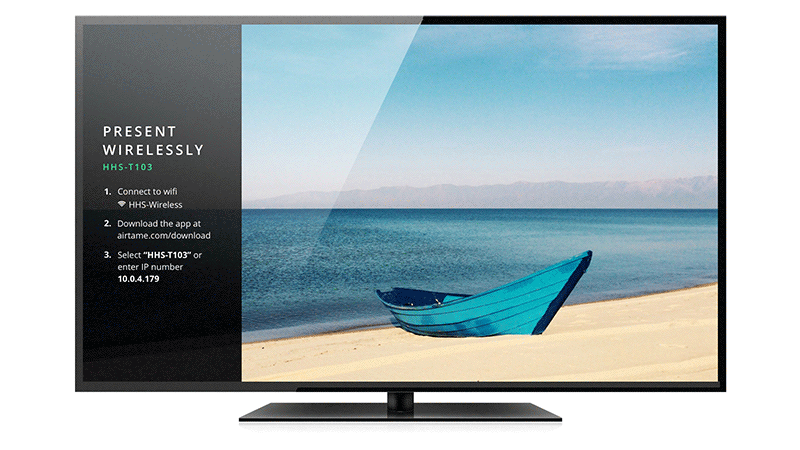 On top of that, you can now set your background to one of three things:
Our default background image
Your own uploaded image (e.g., your company logo)
A URL (e.g., a KPI dashboard or your school's homepage)
Guide
The guide mode is made for screens sitting in rooms with a lot traffic and new users who aren't completely familiar with Airtame.
With this mode selected, the Airtame will show a set of instructions on the left side of the screen. This is a 1-2-3 guide on how the user can connect and share their content to the TV.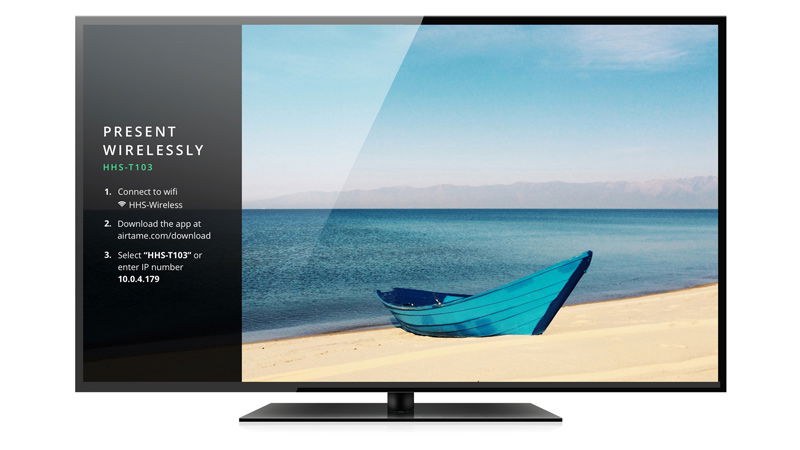 Basic info
This mode is for people who are familiar with Airtame and have our app installed on their computer. These expert Airtamers can quickly find the name of the specific Airtame at a glance and stream to it.
With only the most essential info shown in the bottom bar, this leaves a lot of visual space on the screen for you to play with.
We chose some nice beach-themed pictures by default, but we encourage you to chose your own background. It could be your company logo, pictures of employees, students, or teachers. It's up to you.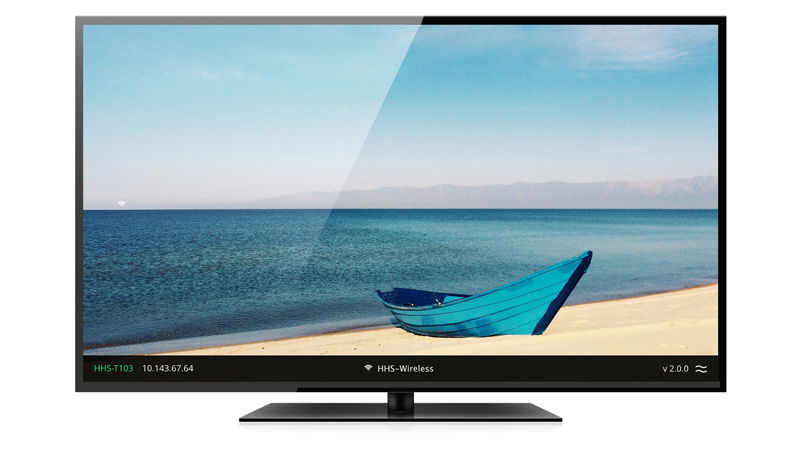 Full screen
Our full screen mode is recommended for situations where Airtame is mainly used for digital signage or for turning a TV into an information screen.
If you have a KPI dashboard with all your excellent data, displaying it in the office is the best way we've seen to stay on top of the data. With the latest improvements to the browser, Airtame can turn your screens into digital wall boards.
Take, for example, these dashboard services, Klipfolio for KPIs and Strea.ma for social walls.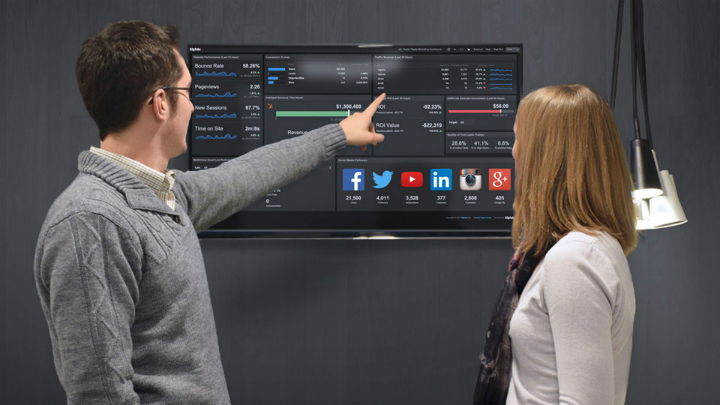 More support for dashboard and websites
The new Airtame browser isn't just a pretty face. We've upgraded to a Chromium browser, which runs faster and more efficiently.
This means more dashboard options. There are now a good number of dashboard services that work smoothly with Airtame, including our new partners and friends, Klipfolio, Strea.ma and DashThis.
You can read more about our top KPI dashboard picks here.
Another happy side effect of our new browser is that you can set a Google Slides URL to display on the big screen.
We tried it out at the office and it was super easy. Put a slideshow together and set the timing of the slides, like you normally would. Under File, click 'Publish to the web' and tick off the boxes to automatically reload the slideshow. Then just copy/paste the URL and Airtame will display it.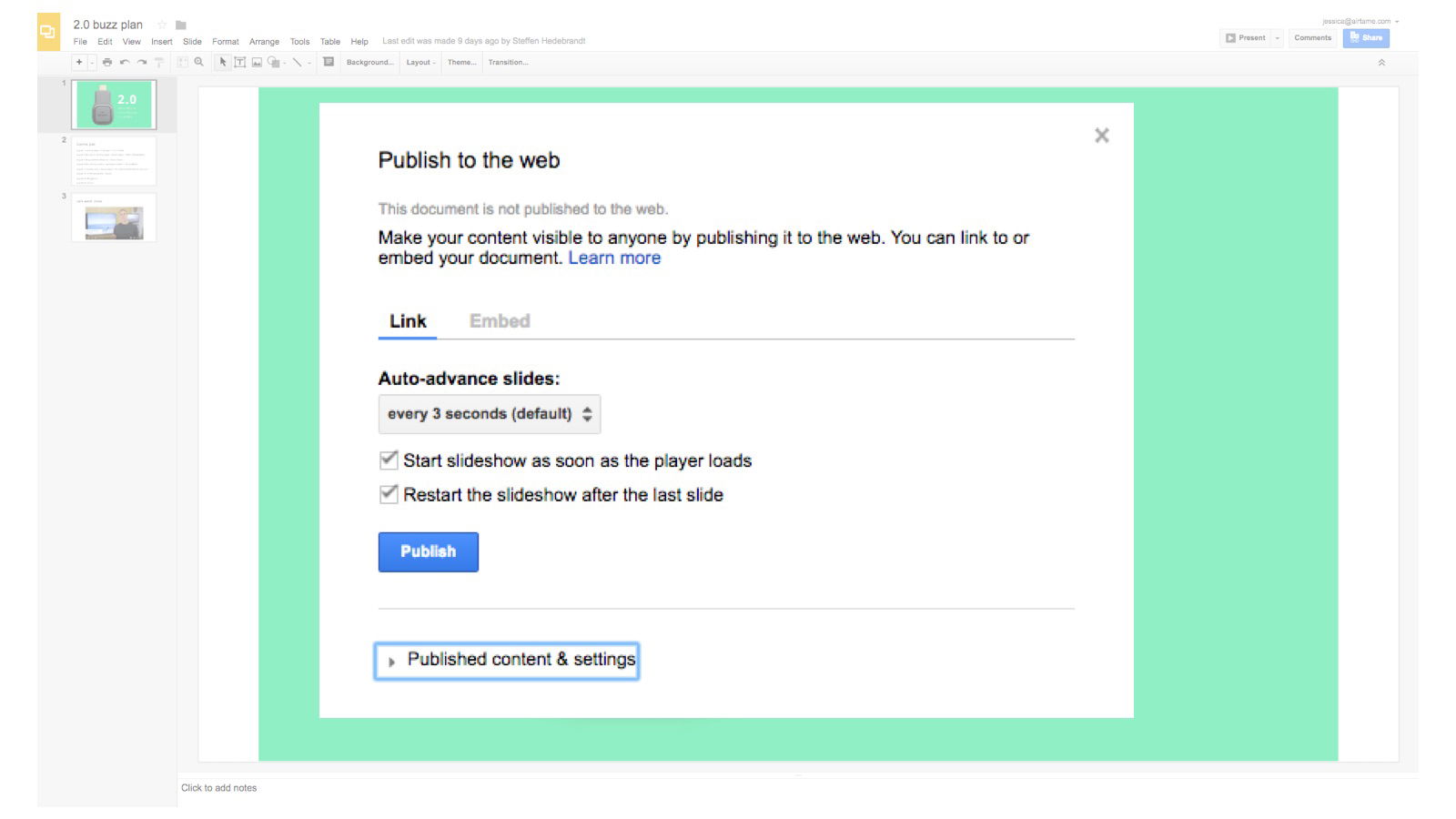 We picture it being useful as an info screen, like showing a cafeteria's menu at a school.
New messages
The new design will not be the only difference you notice. The Airtame browser now also "talks" to you.
The old background gave you basic information like the name of the Airtame, its IP address, and info on what version of the firmware that was currently running the Airtame.
The new background gives you messages to help optimize Airtame's performance. The messages appear in three color codes: green, blue, and red.
Green messages – mainly shown when your device connects to the WiFi or there's an update available. Blue messages – give you info and indicate what the Airtame is currently doing Red messages – warnings that require you to take an action, e.g., if your Airtame's WiFi connection is not stable.
These messages will be shown in the bottom left hand corner of your screen. See the picture below for an example of what these messages will look like.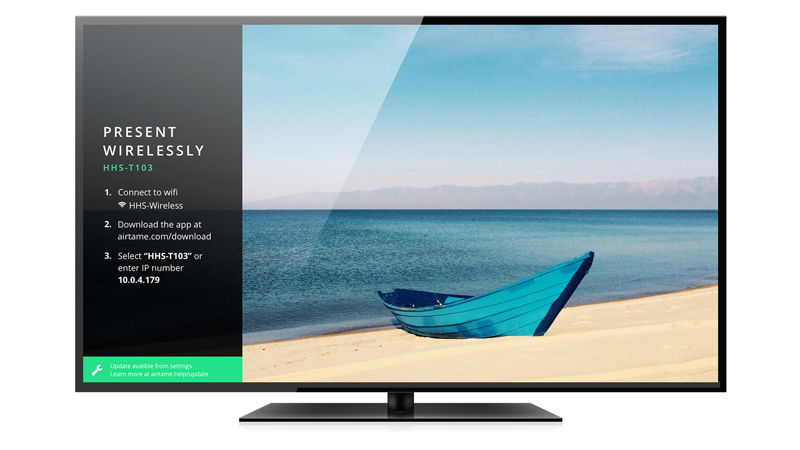 How to customize your background
You've seen what the new browser can do. Now it's time for you to try it out. Follow these steps to set your very own Airtame background.
Open the Airtame app.
Choose the Airtame whose background you want to change.
Hover your mouse cursor next to the start button. A gear icon will appear. Click it to get to that Airtame's device settings.
Select the Display tab.
You can play around with the different settings to make the background your own.
When done, click apply new settings and Airtame will display the changes immediately.
Voila! That's it. Your Airtame is customized and all yours.
Go try it out and let us know how it works for you.
Remember to update both your app and the firmware on the Airtame, if you want to start using the new browser.
If there is anything we can help you with, do not hesitate to get in touch with us at support@airtame.com
Interested? Let's talk.