The life of an entrepreneur can be exciting but also tough and stressful. It is difficult to start a company, develop a business plan and initiate production, all at the same time. One of the ways to lighten the burden is by getting inputs and experiences from like-minded people who have been in your shoes.
This is what Rainmaking Loft is facilitating. Rainmaking Loft is a co-working hub for tech entrepreneurs located in three European capitals: London, Berlin and Copenhagen.
Here, startups can rent a desk and get access to all the facilities needed when starting a company. But the real gem is becoming a part of the melting pot with more than 700 creative and bright minds spread over the three cities.
At Airtame we are naturally very interested in the startup environment, which is why we were very excited to learn that Rainmaking Loft uses Airtames to work more efficiently. We sat down with Kristian Justesen, Managing Director for the Copenhagen space, to learn more about how Rainmaking Loft makes it easier to be an entrepreneur and how AIRTAME helps them.
Can you share with us what makes Rainmaking Loft special?
One of the key factors behind Rainmaking Loft is that we collect all the things entrepreneurs need under one roof. Not only the physical elements but also different stakeholders such as business angels, media partners, large corporations and capital funds in general.
When visiting Rainmaking Loft one of the most striking things is the design of the 3200m2 office space located at one of the most coveted locations in Copenhagen. When entering the building the clean lines, bright rooms and warm atmosphere instantly welcome you. And that is not a coincidence.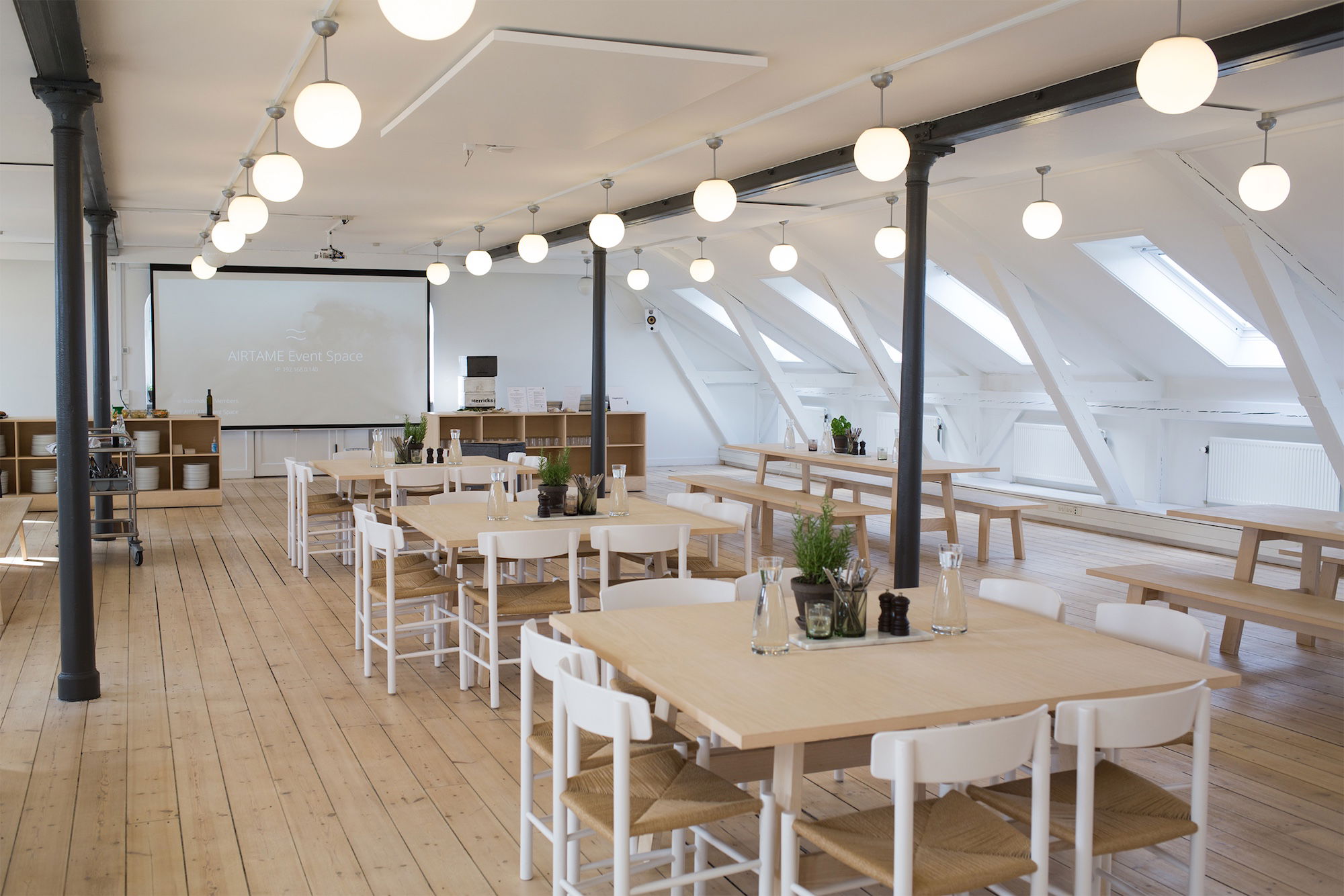 Why Airtame?
We have a few elements we focus on when we create the co-working spaces. One of those elements is aesthetics. We are very into the Scandinavian way of living and interior design. Airtame fits perfectly into that environment because it helps to remove clutter and cables resulting in a nicer solution.
Streaming with Airtame proved to be a good fit for the company and the startups that reside there. Therefore, we decided to equip 7 meeting rooms and a large event space with Airtames.
Airtame allows everybody to stream wirelessly everywhere, and help ease the workflow of Rainmaking Loft. Plus, we got it up and running in seconds.
With the number of people and companies going in and out of the meeting rooms at Rainmaking Loft, it's important to have a solution that works smoothly for everybody. Everybody has their own computer brand and operating system. Airtame works with all of them.
What are your values at Rainmaking Loft?
We believe entrepreneurs are the heroes of our time. Our payoff is: Heroes at work. Without entrepreneurs in the world, we would not be where we are. Take yourselves as an example. You have done something amazing with Airtame and entrepreneurs around the world do things that affect a lot of people all the time.

The more heroes in the world the better. Therefore Kristian Justesen has one piece of advice for all the would be entrepreneurs out there (a piece of advice that may seem simple and intuitive for most people in the startup community
Be part of a community. Share your idea and get inputs from others. And most of all, do not be afraid of sharing and discussing your idea. It only gets better from doing that.
If you are sitting in either London, Berlin or Copenhagen and are interested in having a desk in their coworking hub, check out Rainmaking Loft's website to see their services and pricing.
If you also want to upgrade your meeting rooms at your company or coworking space, please get in touch or simply go to the Airtame shop and get your own right away.
Interested? Let's talk.