RTX is a leading partner within the development of various wireless products, such as teleconferencing solutions, wireless microphones, and media streaming devices.
As experts in the field of wireless technology, it is no surprise that the RTX office reflects their passion for wireless solutions. Naturally, RTX made the move to go wireless in the office.
Airtame is the solution we have been looking for for many years – especially because we have been developing wireless products for more than 20 years and know the true benefit of a well designed wireless solution

Jesper Noer, Regional Sales Manager, (M.Sc.E.E.)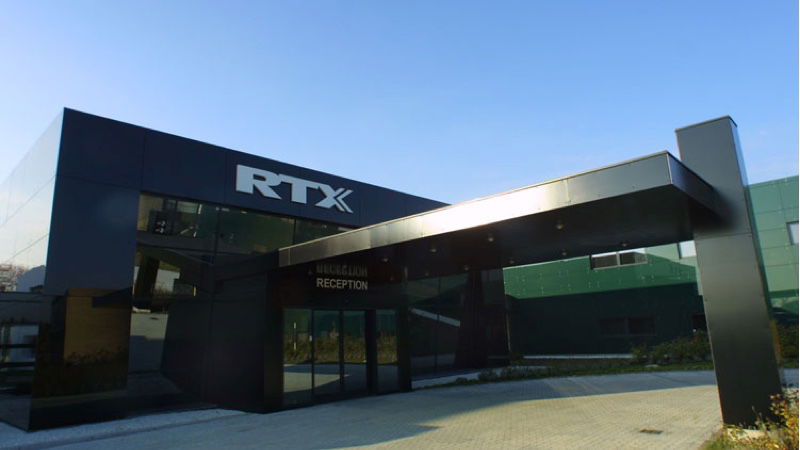 Company facts
Listed on the NASDAQ OMX
160+ employees
Departments in Denmark, Hong Kong, and the U.S.
Developed 800+ Wireless products
Major partners like Microsoft, NEC, Sennheiser, and Philips
Wireless Meeting Rooms
Airtame helped RTX go wireless in 7 meeting rooms. After this trial run turned out successful, RTX installed Airtames in 2 newly-built meeting rooms to create a completely wireless environment.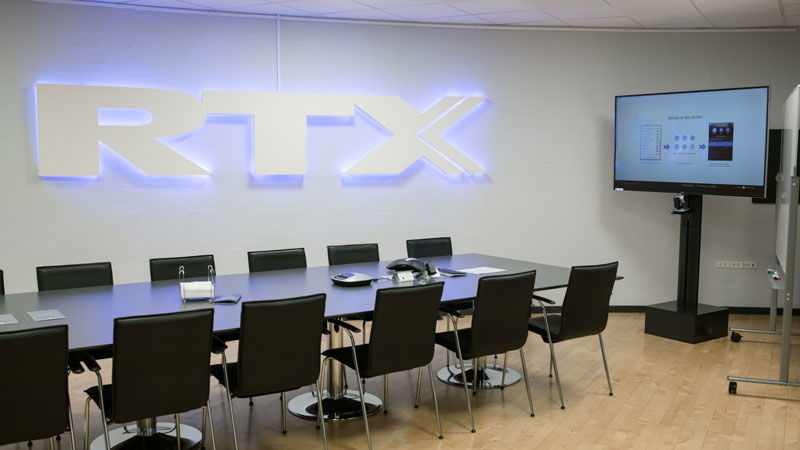 We recently installed two new meeting rooms and saved so much pain since we didn't have to think about how many and what cables to install – and actually we also saved a lot of money when going with Airtame

Jørgen Staun Hansen, IT System Engineer
How RTX is using AIRTAME
Customer sales meetings
Internal status and product review meetings
Web conferencing with customers and Hong Kong team

Internally, RTX uses Windows computers exclusively for work. However, they see more and more Apple devices at customer meetings making it painful to support all devices when connecting to screens and projectors.
Since Airtame works with most major platforms, it's never a problem to connect guests to the screens. Guests just download a small app and connect with a few clicks.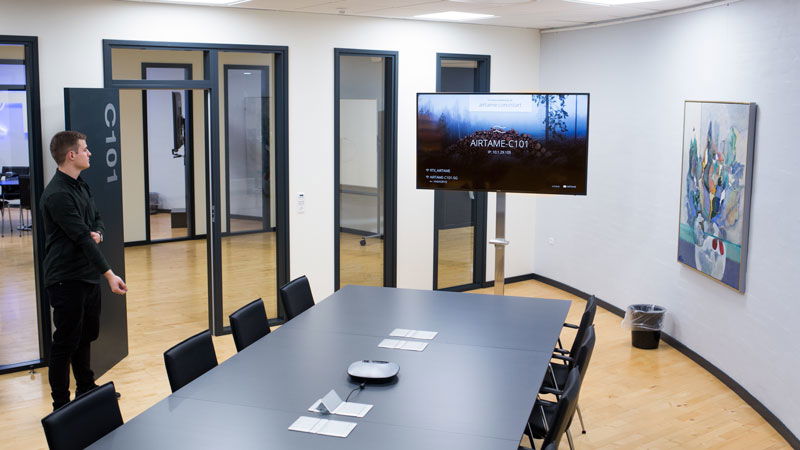 How RTX integrated AIRTAME
In an enterprise environment like RTX, security is a priority. That's why we recommend that you deploy Airtame on a separate VLAN, as RTX does in their integration of Airtame.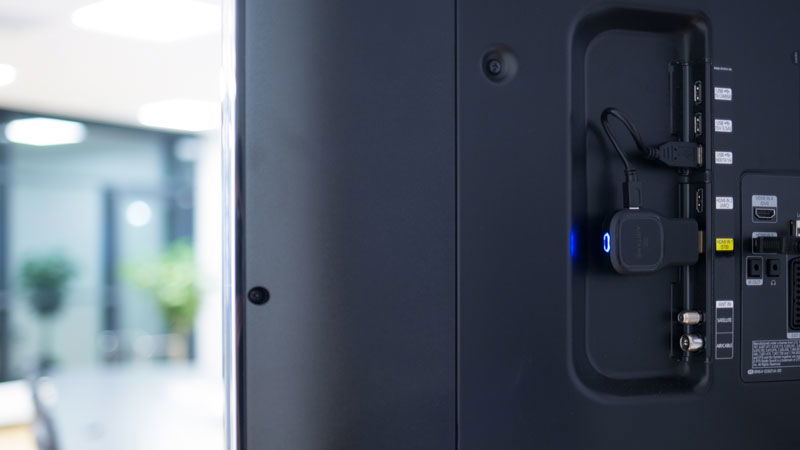 As a stock listed company, security is extremely important and that is the primary reason why we decided to deploy Airtame using a separate VLAN and set up rules in the firewall to access the Airtame devices from both our internal and guest WiFi networks

Jørgen Staun Hansen, IT System Engineer
Devices being used at RTX
Lenovo machines running Windows 7/10
Android and iOS phones
9 Screens (6 TVs and 3 Projectors)
Cisco wireless solution (Controller AC APs)
Network integration
RTX has a classic enterprise IT infrastructure with different networks (VLANs) for different types of devices and also different authentication methods depending on the network. Guests receive a 24-hour voucher to log on to the network from the browser.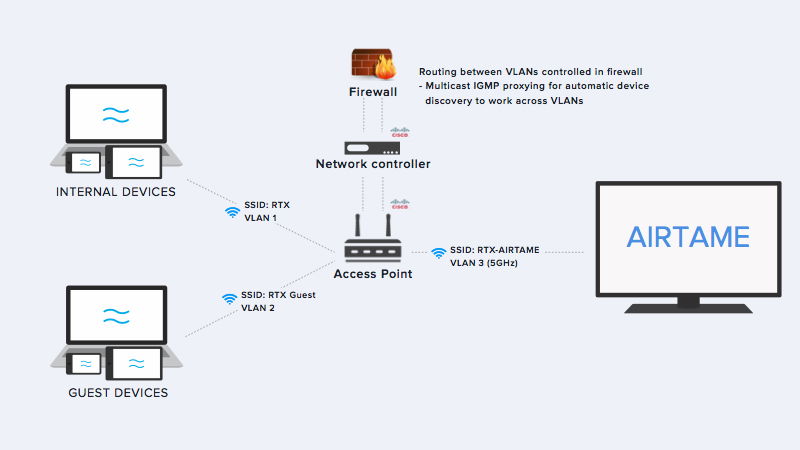 RTX has set the Airtames up on a separate VLAN, to which traffic on certain ports are routed from both their internal network and their guest network. The separate Airtame VLAN is set up as a wireless network with a hidden SSID that only the Airtame units are connected to.
This setup allows both clients on the guest network and employees on the internal network to access the Airtame without compromising security.
VLAN 1 (Certificate authenticated)
VLAN 2 (Guests – Captive Portal)
VLAN 3 (Airtame devices)
To enable easy discovery of all Airtames across both the employee and guest networks, the firewall was set up to proxy multicast traffic through IGMP proxying.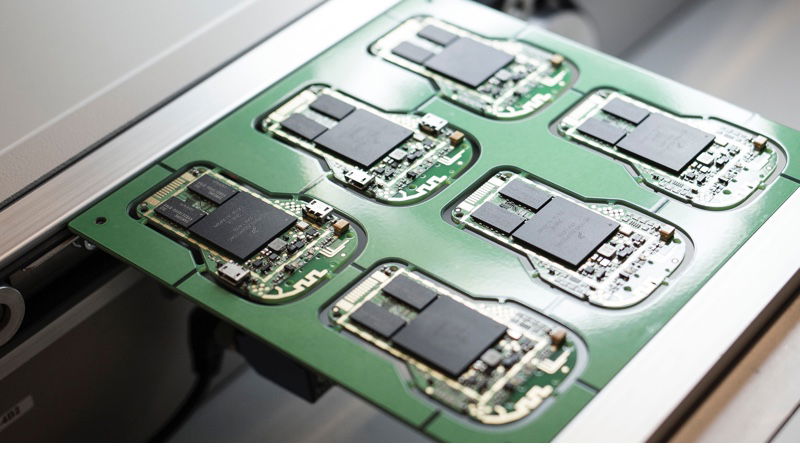 RTX and Airtame partnership
Airtame partnered up with RTX in February 2014 after the success of Airtame's crowdfunding campaign. Airtame chose RTX because of their expertise within developing high-performance wireless products and it was the right decision.
From the idea conception to mass production, the development of the Airtame hardware was accomplished in less than 9 months – record time for an advanced high-performance IoT device like Airtame.
RTX is one of the major reasons why the Airtame hardware turned out to be so successful.
For an insight into Airtame's development journey, take a look at these videos:
Do you work in an enterprise workplace and are looking for a user-friendly and easy-to-integrate wireless HDMI for enterprise solution? Write to sales@airtame.com and we'll help you go wireless!
Interested? Let's talk.