What a year 2016 has been. It's been a roller coaster ride. Ups and downs. Fake news. Real news. Exciting news. Disheartening news.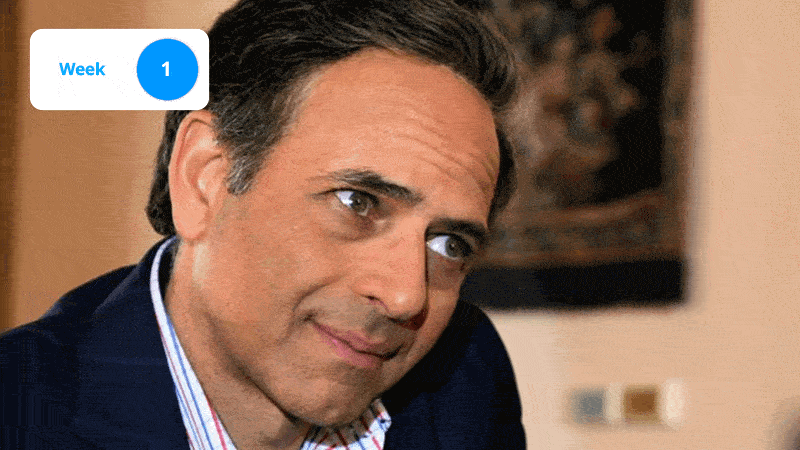 At Airtame, we refuse to see the glass as half-empty. One is better than zero. Everybody can contribute. And so they should.
Our team has talked about how we can contribute to ending the year on a high (without the rush of sugar), and with a bright look at what the future will bring. People should know that the world in a lot of ways is doing better than ever before and will (hopefully) keep getting better.
That's why we are super thrilled to announce:
The World's Best Christmas Calendar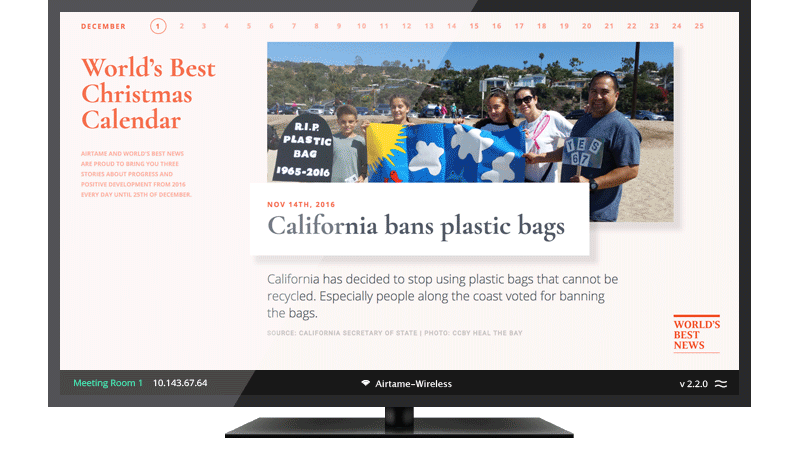 From December 1st until the 25th, Airtame—in collaboration with World's Best News—will bring you three inspiring stories everyday that occurred in 2016.
Here are three examples to give you a taste of what's to come:
Buckets of cool science
The "Ice Bucket Challenge" wasn't just a silly meme. $115 million was donated to research the deadly disease ALS, and an important gene has now been discovered.
End of malaria in several countries
In 2014, several countries reported no new cases of indigenous malaria. The list of newly malaria-free countries includes Morocco, Argentina, and Sri Lanka.
More tigers in the wild
The world's tiger population has increased, thanks to international efforts. There are now 3,890 tigers in the wild – 700 more than in 2010.
Stories like this will be shared everyday accompanied by an eye-catching picture. What's not to like?
A bit about our collaborator, World's Best News
World's Best News is a collaboration between the UN, Danida, and European Year for Development.
They are a journalistic awareness campaign and media outlet that publishes news about progress in the developing countries. The purpose of the initiative is to inform the public that the United Nations' Global Goals for Sustainable Development are achievable and that the world is making huge progress.
Get the World's Best Christmas Calendar
All you have to do to get these awesome stories at your company, school, or organization everyday until Christmas is copy this URL:
http://worldsbestnews.org/christmas-calendar/
Paste it into your Airtame device settings and save.
If you're feeling inspired to create your own custom background with your company logo or website, follow the instructions in this short video below.
Have more questions about Airtame? Book a time to talk with us here!
Interested? Let's talk.